Most supplies dropped by parachute hit the ground inside one of several types of Drop Container. Generally these containers were cylindrical in shape and approximately 6ft long, the parachute attaching to one end, and a crash pan to the other. These were known as CLE (Central Landing Establishment) Canisters.
Resupply drops delivered all type of items from clothing to ammunition and wireless equipment to petrol.
The standard fuel can in use with the British Army at the time was the "Jerry" can, so called because the design had been borrowed from the Germans to replace the earlier Flimsy cans used by the British Army, which leaked badly, couldnt easily be re-used and were difficult to store and move around.
Neither the Jerrycans or the earlier "flimsies" were suitable for air-dropping. Firstly their rectangular shape would have required a new type of drop container to be designed and secondly it was found jerrycans could split open if hard contact with the ground was made (flimsies werent even suitable for consideration)
A new type of can was required that would both fit inside the drop canister and be strong enough to withstand a parachute landing.
In 1943 the new design was finalised and production began. Due to the specialised nature of the can, it appears that the government contract issued in 1943 was of sufficient size that no more were made in later years.
We know from surviving examples that there were two types of closure, one (illustrated here)...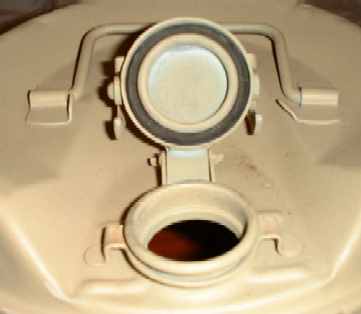 ... of similar style to the convential "Jerry" can, but with a round pouring hole, and the other similar to the "Ameri" Can... a screw type lid. All of the surviving cans are WD and Broad Arrow stamped on the base and 1943 dated with the manufacturer's mark.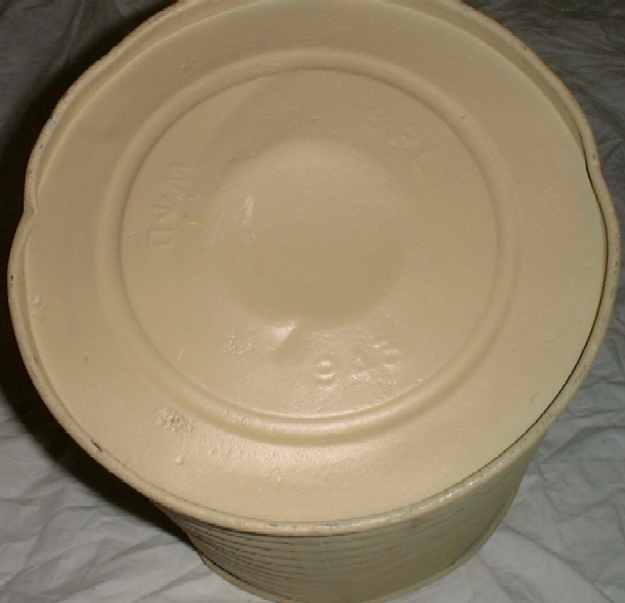 To fit inside the existing design of Drop Container they were cylindrical, and had corrugated sides for strength.
A flat-folding handle on the top with recessed lid, and a recess in the base enabled them to be fitted together in 3's inside each drop container... the recessed lid and the height of the can also made them quite comfortable to sit on.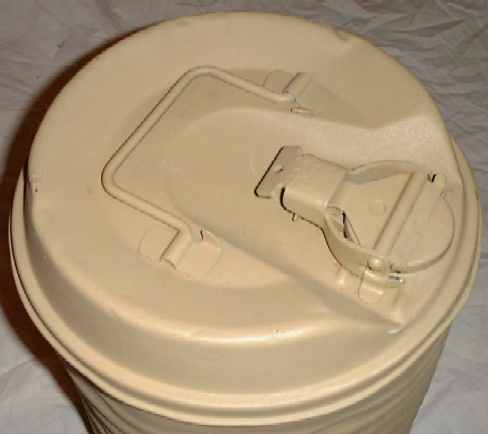 This particular fuel can was discovered this year (Summer 2000) in a barn on a farm between Caen and Ouistreham in Normandy, and was most likely one of many dropped during Operation Overlord. Interestingly there were 2 others found at the time. All had unfortunately been sand-blasted and repainted by their owner to make them more presentable for sale, so this can is not in its original paint scheme. The black object in the picture beneath is a No 69 Hand Grenade, placed next to the Fuel can to indicate scale.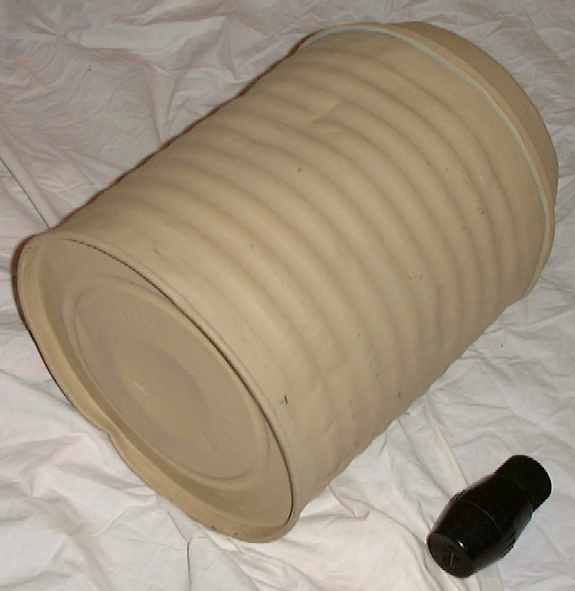 This page has been wrtten using information available to us at the time. If you have any further information about the history, types and production of this type of fuel can, we would be interested in hearing from you.